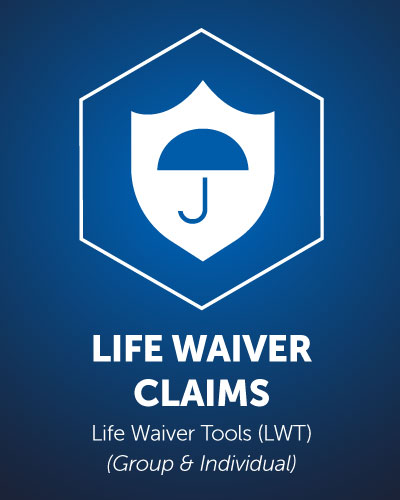 FastTrack's Life Waiver Tools (LWT)

 are a groundbreaking advance in managing the Life Waiver claims process. LWT provides a more efficient manner of collecting the claimant's physical and mental/nervous Restrictions & Limitations (R&L) data; an automated process of identifying occupational capacity inclusive of the claimant's current R&L's, Training, Education and Experience (TE&E) and Gainful Wages; as well as tools specifically designed to automate letter writing and preparation and generation of insightful reporting. LWT is targeted to both Group and Individual insurers.
---
Unique Product Features
Tailored to the Life Waiver Function:
The uniqueness of FastTrack's Life Waiver Tools (LWT) can be summarized in the way medical information is collected, our ability to carefully identify occupational matches through our comprehensive occupational database and the methodology we employ to provide key adjudication information in a user friendly format.  This allows the Benefit Specialist to make an informed, objective, risk-based and repeatable business decision in a fraction of the time that current processes require.  Additionally, our technology offers your Life Waiver team automation that:
Reduces unnecessary touches on new and in-force claims
Provides automated claimant notification letter generation
Real-time and detailed operational and actuarial tracking and reporting
The Automated Occupational Matching Funnel:
FastTrack's LWT features an automated, multi-parameter matching process allowing for the high speed comparison of the claimant's detailed restrictions and limitations (R&L's) with over 13,000 potential occupations, allowing your Benefit Specialists to have a complete employability assessment analysis in front of them before an adjudication decision is made.
Physical Capabilities Form (PCF): FastTrack's Physical Capabilities Form (PCF) provides a superior way of capturing the claimant's physical and mental/nervous R&L data (e.g. ability to sit, stand, walk, drive, bend, lift, carry, handle, use a computer, depression, anxiety, PTSD, etc.) by providing a checkbox driven collection form to the medical provider to document the claimant's current abilities and R&L details, rather than asking him or her to provide traditional text driven medical notes. Traditional medical notes and Attending Physician Statements (APS) typically are limited to asking if the claimant is disabled and are backed up by basic R&L details, open ended adjudication questions and often undecipherable conclusions.The FastTrack PCF provides the carrier with a much more comprehensive survey of the claimant's abilities and R&L data thereby improving objective RTW analysis. The FastTrack PCF readily lends itself to digitization as part of an automated Life Waiver claims process and furnishes your Benefit Specialists with:

Customized state-specific & carrier-specific PCF forms which can be completed by the physician/medical provider via the Internet, fax, email or by mail 
Automatic follow-up requests for the physician/medical provider to complete the PCF
Carrier access to completed PCF input
Storage of claimant data by user defined unique identifier (i.e. claim #, claimant name, etc.)
Automated Occupational Matching Report: Upon loading the FastTrack PCF into LWT, the claimant's detailed R&L's are compared against FastTrack's proprietary Intelligent Occupational Library TM (IOL), which takes the best attributes of the O*Net and DOT classification systems (e.g., old occupations eliminated, new occupations included with job analyses) augmented by our occupational filtering technology to determine which occupations, if any, the claimant can perform given their current R&Ls. The claimant's abilities are then automatically matched against more than 13,000 potential occupations based on the insurer's policy definition (e.g. own occ, any occ, training, education, experience, gainful wages, etc.).
Other Claims-Like Functionality Built Into LWT:
Automated Letter Writing:
FastTrack provides the Life Waiver Benefit Specialist with standardized, automated letter writing capabilities that include typical repetitive functions such as receipt of a waiver claim, waiver claim adjudication determination (approvals/pending/denials with occupational matches), claim statements and annual recertifications.
Reporting:
LWT Reports are dynamically generated and are tailored to specific needs during the claim adjudication process.  Examples:
Occupational Matching Reporting by policy terms (e.g. Any Occ with Reasonable TE&E)
Life Waiver Task Reporting (to continually move the claim forward in the adjudication process)
Multi-Variable Opportunity Reporting (e.g. Any Occ, Own Occ, TE&E, Gainful Wages, Full-Time, Part-Time)
Summary:
FastTrack's LWT is an easy 2 step process that gives the Benefit Specialist all the tools they need to collect key R&L data in a highly efficient manner and then allows them, through an automated, best practices process, to quickly analyze each claimant's occupational capacity based on their current R&L's, TE&E and gainful Wages.  This greatly increases the odds of making a knowledgeable adjudication decision.
Summary of Product Benefits By Function
For Carrier Management:
Significant impact upon transferring Disabled Life Reserves (DLR), in the range of $10,000 to $25,000 per claim, to earnings

Considerable impact on lowering Mortality Reserves

Meaningful impact on reducing lost policyholder premiums
For the Benefit Specialists:
Best Practices Automated Waiver of Premium (WoP) process that accurately determines the claimant's occupational capacity based upon R&L's and policy definition (Own Occ, Any Occ, Training, Education, Experience, Gainful Wages, etc.)

Integrated and customized letter generation process at your fingertips, which reduces the claim administration burden by providing pre-loaded required state and federal language as well as occupational matching results

Automated daily agendas/task diaries allowing every Benefits Specialist the opportunity for smart time management