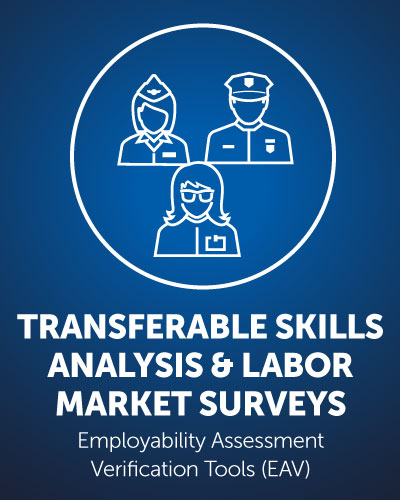 FastTrack's Employability Assessment Verification (EAV)

Tool is designed to automate the Transferable Skills Analysis (TSA) and the Labor Market Survey (LMS) process. The claimant's similar or potential occupations are automatically identified and then matched against their Restrictions & Limitations (R&L's), Training, Education and Experience (TE&E) and gainful wage criteria. The EAV further refines the results by examining the prevalence of those occupations in the claimant's job zones and geographic region as defined by policy definition or carrier specific business rules.
---
Unique Product Features
Step 1  –  Collect Data for the Physical Capabilities Form (PCF)
FastTrack's Physical Capabilities Form (PCF) provides a superior way of capturing the claimant's physical Restrictions & Limitations (R&L) data by providing a checkbox driven collection document (e.g. ability to sit, stand, walk, drive, bend, lift, carry, handle, use a computer, depression, anxiety, PTSD, etc.) rather than text driven medical notes to be completed by the Attending Physician. Traditional medical notes and Attending Physician Statements (APS) are limited to asking if the claimant is disabled and are backed up by basic R&L details, open ended adjudication questions and often undecipherable conclusions.
The FastTrack PCF provides the insurer with a much more comprehensive survey of the claimant's abilities and R&L data thereby improving objective occupational identifications by policy definition. The FastTrack PCF readily lends itself to digitization as part of an automated EAV process and furnishes your Vocational/Medical Specialist with:
Customized state-specific & carrier-specific PCF forms which can be completed by the physician/medical provider via the Internet, fax, email or by mail
Automatic follow-up requests for the physician/medical provider to complete the PCF
Carrier access to completed PCF input
Storage of claimant data by user defined unique identifier (i.e. claim #, claimant name, etc.)
Step 2 – Automatically Create the Occupational Matching Report
Upon uploading the FastTrack PCF into EAV, the claimant's detailed R&L's are compared against FastTrack's proprietary Intelligent Occupational Library (IOL), which takes the best attributes of the O*Net and DOT classification databases (e.g., old occupations eliminated, new occupations included with job analyses) augmented by our occupational filtering technology to determine which occupations, if any, the claimant can perform given their current R&Ls. The claimant's abilities are then automatically matched against more than 13,000 potential occupations based on the insurer's policy definition (e.g. own occ, any occ, training, education, experience, gainful wages, etc.).
Step 3 – EAV Report Generation
FastTrack's EAV tool is available to insurers to be used on their claims professionals' desktops.  Insurers may also outsource the EAV process entirely to FastTrack, in which case each EAV report is produced and reviewed with recommendations provided by a credentialed, experienced FastTrack Vocational Rehabilitation Specialist.  EAV is being used by several major insurers to deliver key information to their Vocational Rehabilitation and medical staffs, providing operational accuracy, time, financial and legal advantages.  Each EAV report includes the following information:
Claimant details
Referral overview
Summary of medical records/physical capabilities
Claimant's educational review
Claimant's work history review
Occupational Opportunity Matching Report (OMR)

Own occupation(s) results
Any occupation(s) results

Employability verification review/results
Vocational Rehabilitation Counselor's review, conclusion, verification and signature
Summary of Product Benefits By Function
For The Carrier's Management:
The EAV Tool provides enhanced staff productivity by combining two individual processes (TSA and LMS) into one standardized best practice, automated, consistent, repeatable and comprehensive process

75.4% of EAV's are providing occupational matches that demonstrate capacity for "any occ" policy definitions at the Change of Definition

Insurers utilizing the EAV tool are experiencing a return of $12.62 for every $1.00 invested
For Clinical/Medical Specialists:
The EAV Tool process insures full enforcement of claimant policy definitions, which are often circumvented in the traditional processes in use today


The EAV Tool prevents subjective "adjudication steering" language from the Physician (e.g. the claimant is disabled!) which often is not backed up with ample detailed R&L data to validate that conclusion

The EAV Tool promotes lowered operational risk and a more legally defensible claims adjudication process